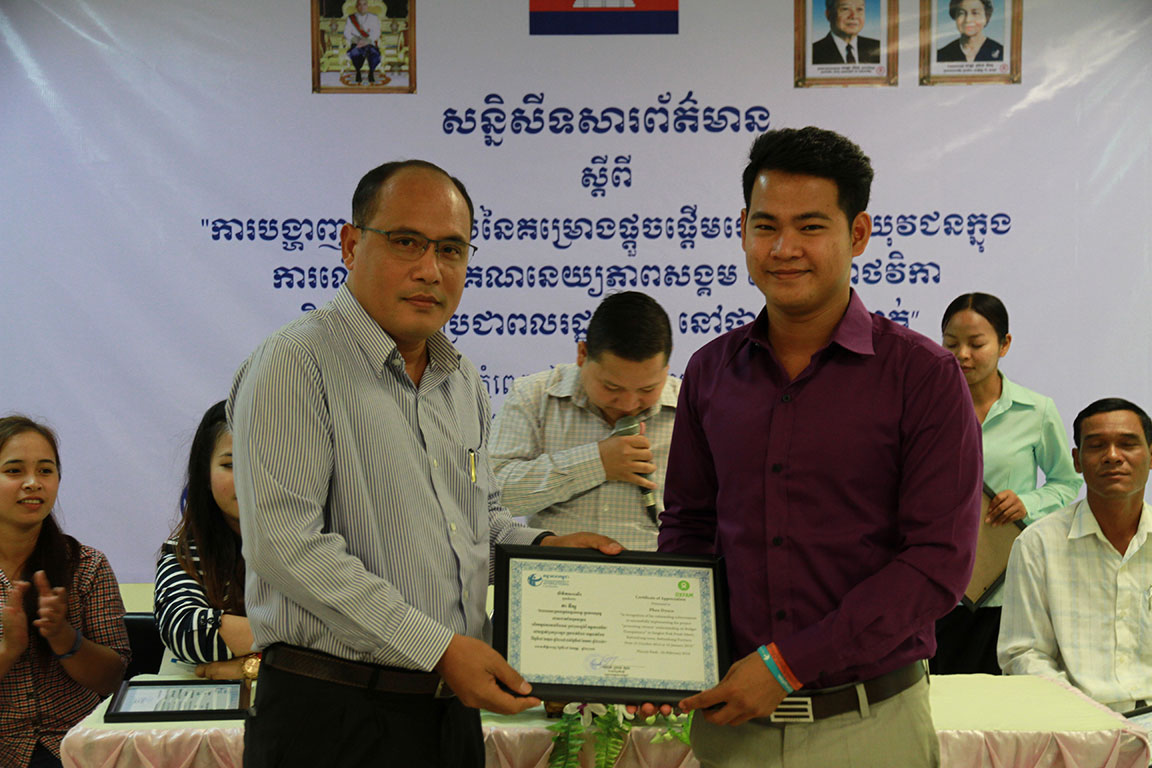 "TI Cambodia Has Empowered Me to Empower Others"
Aged 20, Phea Disco is a fourth year university student in Battambang province. Disco joined in Transparency International Cambodia's event to celebrate the National and International Anti- Corruption Day for his first time in December 2013. For him, one of the great influences he received from attending Transparency International Cambodia's programmes is that he has changed and cared more about the country development, which in turn has led him to actively Cambodia's programmes is that he has participate in promoting integrity, good governance as well as the fight.
Through the programmes organised by Transparency International Cambodia, Disco has learned a lot about anti-corruption and good governance. "First, I learned what corruption is. I learned about the different types of corruption and the forms it takes. I also learned about what I can do to contribute to the reduction of corruption," he explained. This acquired knowledge changed Disco's mindset and attitude toward corruption. "The most significant change is that I dare to express my ideas and take action to promote integrity and good governance in Cambodia," said Disco. For this reason, he had initiated and implemented many projects and activities that he thought would help to promote integrity in the society.
The first project that he and his friends successfully planned and implemented was a project aimed at strengthening good governance and anti-corruption in Phnom Sampov Commune, Battambang Province. This project comprised of three main activities. The first one was a cycling campaign by about 30 youths with the purpose of disseminating information about corruption to people in the targeted commune, discussing their issues and needs and bringing them up to the Commune Council. The second activity involved distributing anti-corruption leaflets and copies of public service fees in the same targeted commune. The third activity was the monitoring of planning and implementation in the commune's development plan. This whole project resulted in the following outcomes. People were very active in the discussion about their issues and needs. Then the posters of public service fees were publicly displayed, and the Commune Council meetings were conducted regularly. Additionally, the local public health center also paid more attention to the people than before.
Another one of Disco's important achievements was the successful distribution of Transparency International Cambodia's anti-corruption cards. Disco and his team managed to attract 28 companies and private schools to cooperate in the anti-corruption card initiative. He played the leading role in distributing the cards to around 2,000 youths and citizens in Battambang Province. In addition, he and his team also successfully organised a workshop on corruption and good governance with hundreds of students in attendance.
Furthermore, satisfied with Disco's projects and believing in his capacity, some private schools and companies financially sponsored him to organise workshops to raise awareness among students at universities about anti-corruption and good governance. Moreover, what Disco felt very proud of was that many universities in Battambang have agreed to provide discounts on tuition fees to students holding the anti-corruption cards. As a result, many students with the anti-corruption card have benefitted a lot from the initiative. Disco also participated in writing articles to strengthen good governance in Cambodia.
This is what happened after Disco understood the role and potential of youth participation in developing the country. As he said, "Youth have the role to develop society. Changing the mindset related to corruption is the best thing that ever happened to me."