Youth Integrity Survey
The Youth Integrity Survey, the first of its kind in Cambodia, was designed to find out how young people understand experience and engage in corruption. Following a nationally representative sample, 1,200...
Size
2.07 MB
Downloaded
107 times
Last Updated
June 8, 2016
Download
---
Report: Corruption Perceptions in Cambodia SMES
Small and Medium Enterprises in Cambodia are faced with corrupt practices at all stages of their life including during the registration process and in doing their business on a day-to-day basis. This research...
Size
15.83 MB
Downloaded
137 times
Last Updated
March 1, 2017
Download
---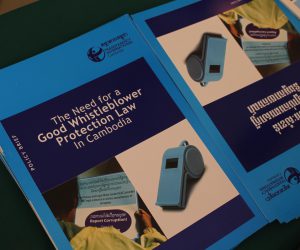 Policy Brief: Whistleblower Protection Legislation
Whistleblowers play a crucial role in the fight against corruption. In order to encourage them to speak up, legal protection is essential, as has been established in the Anti-Corruption Law Enforcement...
Size
200.05 KB
Downloaded
79 times
Last Updated
May 4, 2016
Download
---